Annual Meeting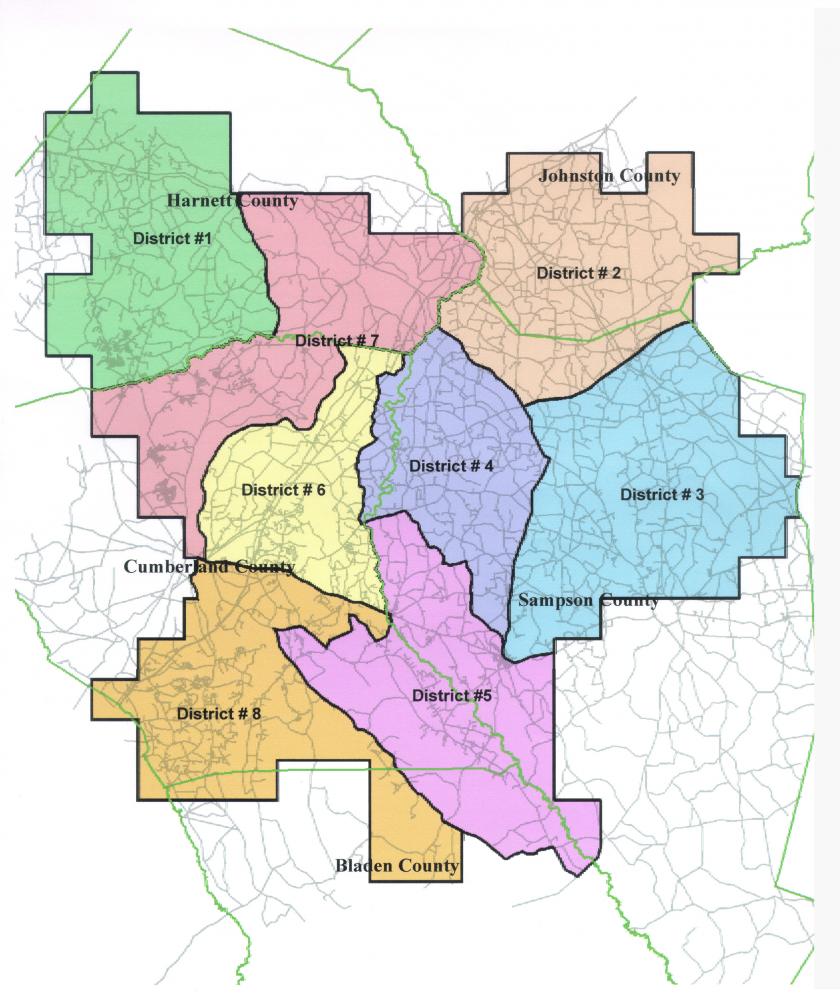 Committe Nominates Directors For 2018 Election
The Nominating Committee:
District 1 - Van Buie, 1680 Buie Rd., Broadway
District 2 - Raylon Wood, 71 Unity Church Rd., Four Oaks
District 3 - Iris Lucas, 887 Junious Lucas Rd., Faison
District 4 - Johnnie Baggett, 1108 Fayetteville Hwy, Dunn
District 5 - Anthony "Tony" Warren, 2392 Andrews Chapel Church Rd., Roseboro
District 6 - Carol Hudson, 3661 Murphy Rd., Fayetteville
District 7 - Warren Paul Jones, 5280 Loop Rd., Linden
District 8 - Walter Clark, 1124 Pony Dr., Hope Mills
At Large - Alexander Eastman, 995 Butler Rd., Salemburg
Members can also be placed on the ballot by submitting an authorized petition form 45 business days prior to the annual meeting. The petition must include the full name of the member and the district they wish to represent. The petition must also contain the printed names, addresses and telephone numbers of at least 150 South River EMC members.
Anyone interested in obtaining an authorized petition form should contact Barbara West-Lee at 910-230-2966.
Forms should be returned by .
If you have any questions or comments about our annual meeting, please send them to sremc@sremc.com.
2018 Annual Meeting- Here We Come!
Each year, South River EMC is pleased to offer an opportunity to all member-owners of the Cooperative to gather for fellowship and to hear of the business of their Cooperative. This event is the Annual Meeting of Members, which will be held April 29, 2018 at the Crown Arena and Theatre in Fayetteville.
Documents to read in preparation for the meeting:
2017 Annual Report 2017 Cover Wrap
Doors Opened At 6 p.m.
Arena Entertainment (6-7:25 p.m.) TBA
The evening's arena entertainment was provided by Emily Minor in 2017.
The North Carolina native began her journey on American Idol in 2007, making it to the Top 50 "Hollywood" round. Upon seeing the audience and judges' response, this action orientated go getter graduated from East Carolina University and moved to Nashville, TN.
With vocals likened to Miranda Lambert and Jennifer Nettles, Minor has become a sought after entertainer. Her delivery is straight up and honest with no sugar coating added. The songstress is an energetic sunburst full of big surprises poised to make a lasting impression.
Theatre Entertainment (6:15-7:15 p.m.) TBA
Beck and Kasie, a married duo brought folk/alternative/indie Christian tunes to the theatre before the business meeting in 2017.
Vendor Bazaar (6- 7:30 p.m.)
Each year we welcome around 50 or so vendors with fun, interesting and helpful products. Come ready to pick up a must needed item, or just to shop around. We welcome new and favorite vendors each year.
Children's Area (6- 7:30 p.m.)
The Kids' Korner offers a safe, secure, fun place for you to leave your children (ages 4 to 12-years-old) while you enjoy the entertainement. We will have inflatable games for the children and snacks will be provided. All you need to do is sign them up in the Kids' Korner section and then pick them up before the business meeting. Your children will be in safe hands and having a great time!
Elgie Behagg of Fayetteville, seen here with Executive Vice President and CEO, Chris M. Spears, was the winner of the 2010 GMC 1500 series truck! Congratulations!