Miles Ray and Coach Hubert Davis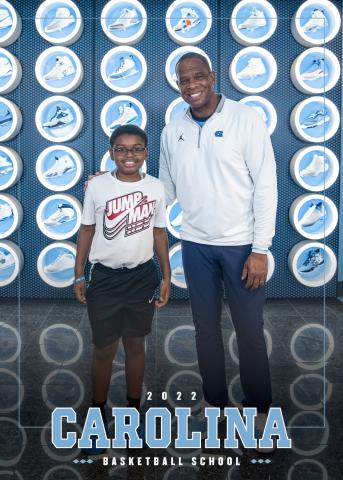 Send Your Student To Sports Camp In 2023
South River EMC, as well as North Carolina's Touchstone Energy cooperatives, is happy to once again partner with North Carolina State University and the University of North Carolina at Chapel Hill to offer educational and athletic opportunities for rising sixth and seventh graders.
Eligibility note: NCAA rules this scholarship is not available to students who have started classes for seventh grade and above as they are considered prospects.
Middle school students statewide are encouraged to apply for 52 all-expense paid scholarships to attend basketball camp. South River EMC offers one scholarship each for the boys Carolina Basketball camp at UNC and girls Wolfpack Women's camp at NCSU.
Recipients of the Touchstone Energy Wolfpack Women's Basketball Camp scholarship attended the overnight camp in Raleigh from June 18-22. Recipients of the Touchstone Energy Carolina Basketball Camp scholarship attended the overnight camp in Chapel Hill from June 17-21. Campers must have permission from a parent or guardian to attend camp and must provide their own transportation to and from the camp.
Coaches of the Wolfpack women's basketball team, and of the Carolina Tar Heel men's basketball team, will each instruct campers with the help of staff and current players. Not only does the program allow North Carolina middle school students to spend time on a college campus, it also gives them the opportunity to receive individual and group instruction from two successful collegiate coaches to enhance their basketball skills.
Applications are available at www.ncelectriccooperatives.com/community/sports-camps/
Applications must be completed by March 31.
For more information on the Wolfpack Women's Basketball Academy or the Carolina Basketball Camp call (910) 892-8071 or e-mail sremc@sremc.com.
Coach Wes Moore and Alyssa Stephens