Protect your home's appliances and sensitive electronics before it is too late. This protection is available through South River EMC.
As home electronics and appliances have become more sophisticated, they have also become more sensitive to any changes in the power they receive.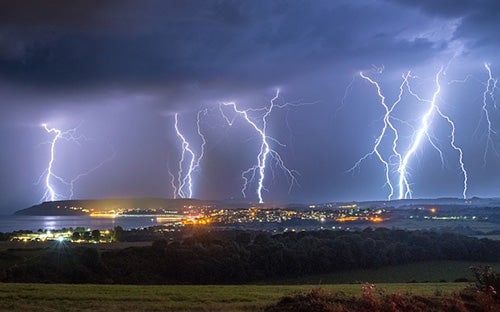 A split-second change in voltage outside the normal range can scramble data saved in tiny, delicate silicon chips and circuit boards. High-level surges can destroy the electronics in equipment. Low-level surges slowly wear down microprocessors, causing equipment to fail unexpectedly. The best protection against voltage surges is to put up a guard where electricity enters your home and, for added protection, inside your home where equipment is connected.
Surges in voltage levels are caused by many different events. Lightning is the most common culprit, but accidents involving utility poles or animals contacting power line equipment can also generate surges.Inside your home, surges can be caused by major appliances or other large motors switching on and off, or by faulty wiring or poor grounding.
Since so many things can cause surges, most homes will experience some surges at one time or another. Even the most basically equipped homes have thousands of dollars in sensitive electronics.
Electric utilities have devices in place on their lines to try and keep surges from damaging their equipment and reaching their customers' homes, but many surges can not be stopped or prevented. The best way to protect your equipment is with Strike Guard equipment.
Surge suppressors are made to protect your electronic equipment by diverting surges away from sensitive electric circuits. Protecting your home appliances and equipment requires a two-stage approach. Using two separate suppressors to step down surges offers superior protection from both externally and internally generated surges.
South River EMC offers a whole house protector, a high-energy surge suppressor, which is installed at your meter base. This suppressor withstands surges up to 55,000 amps.
Also recommended are individual plug-in suppressors, which connect to individual pieces of equipment like computers and televisions. These suppressors protect against internally generated surges and provide further protection against external surges.
Strike Guard devices are sold individually or in packages to provide individual to whole-house protection from voltage surges. Voltage surges are short periods of high voltage or spikes of electricity ranging from several hundred to several thousand volts that occur through power lines, telephone lines, TV antennas, cable lines or satellite receivers. Even when the equipment is turned off, high voltage surges can damage major appliance motors, while lower level surges can slowly wear down microprocessors, causing computers and other equipment to fail unexpectedly.
All Strike Guard equipment will be installed by South River EMC employees. Prior to installation, technicians will check your home grounding system to ensure it is adequate.
Product Description

Price

Household Devices

 

SS320-A - Whole house protector
Whole-house protection at the meter base

$135.00

MPA480-3
Hardwire for three-phase services

$135.00

MPA480-2
Hardwire for single-phase services

$135.00

US 1206- AC/ Telephone/ Data/ Video
6 outlet strip

$90.00
For more information call South River EMC at 910-892-8071. NOTE: Purchase of two items receives 10% discount. Three item purchases receive a 15% discount and purchases of four items or more receive a 20% discount.
All sales subject to a 7% NC sales tax.