The purpose of the Revolving Loan Fund, or RLF, is to provide an additional source of funding for organizations that are dedicated to protecting the community through fire, rescue and emergency medical services.
South River EMC will accept and consider applications for loans from the RLF for projects that will significantly benefit citizens in Harnett, Sampson, Cumberland, Johnston and Bladen counties in North Carolina. The prospective recipient does not have to receive electric service from South River EMC or any other associated electric utility.
It is the intent of South River EMC that funds from the RLF program assist fire departments, rescue squads, and emergency medical services to purchase equipment and make capital expenditures. It is intended that South River EMC use the RLF program to supplement, but not compete with, capital that may already exist within the communities.
Types of projects/activities ineligible for RLF funding:
Refinancing of existing debt, or payment to business owners or partners;
Projects without any supplemental financing;
Activities determined to be for investment purposes;
Vehicles used for general purposes or that may be considered for personal use;
Projects that are primarily working capital with limited security;
Construction projects of an individual residential nature;
Projects in which any director, officer, general manager, or supervisory employee of South River EMC, or close relative thereof, has a financial interest; projects in which any subsidiary or affiliated organization of South River EMC has a financial interest; or projects which, based on the judgment of the Board, would create a conflict of interest, potential for conflict of interest, or any appearance of a conflict of interest.
 
Fixed Asset Financing Available For:
Land, buildings, emergency vehicles and work equipment.
Infrastructure improvements.
 
Loan Terms & Conditions:
Amount: The RLF will not lend more than 25% of the total amount that is needed for a capital project. The maximum amount of a single loan may not exceed $40,000.
Interest Rates: The minimum interest rate will be ZERO percent.
Repayment Terms: Repayment terms will not exceed ten (10) years. The following maturities will be used as a general guideline:

Building - 7 years
Real Estate - 7 years
Equipment - 5 years or depreciable life

Supplemental Financing: RLF loans are limited to financing 25% of a capital project. Supplemental financing of 75% will be required. Evidence of availability of supplemental financing will be required prior to advance of RLF funds.

Application Process:
All applicants for RLF funding will be required to complete an application form, providing verifiable data which demonstrates that their proposed projects are economically feasible, sustainable, and will provide benefits to rural areas, either through job creation or infrastructure improvements.
For more information contact: Aaron Jackson at (910) 892-8071 ext. 2153, or abjackson@sremc.com.
Eligible applications will be received and reviewed by South River EMC's RLF Committee. A credit analysis will be performed by South River EMC. The Committee will review and determine:
Demonstrated ability to repay debt

Credit worthiness of applicant

Adequate collateral coverage

Management capability/borrower reputation

Equity commitment

Leverage of other funding sources

Impact on community

Job creation/retention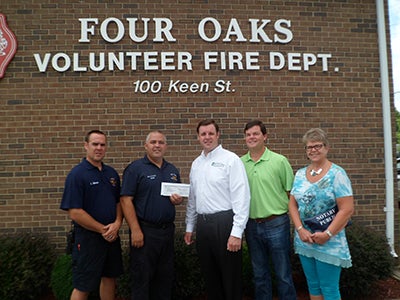 Four Oaks Fire Department received a $40,000 zero interest loan from South River EMC for the purchase of a new fire station.
Four Oaks (l-r): Secretary Jeremy Johnson, Chief Barry Stanley, Aaron Jackson, Town Commissioner Vic Medlin and Town Clerk Sherry Hudson.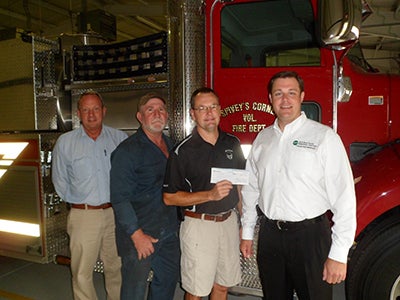 Spivey's Corner Volunteer Fire Department received a $20,000 zero interest loan from South River EMC. The funds will be used to help retrofit the old fire bays into a state-of-the art training facility.
Spivey's Corner (l-r): Director Alan Mac Honeycutt, President Ronnie Wooten, Chief Alan Farmer and Aaron Jackson.