Welcome To South River EMC
Residential consumers make up the largest portion of South River EMC's electric cooperative membership. As a cooperative, we strive to provide answers for all our consumers regarding their electric service as well as questions regarding the business of their cooperative. Many members phone the cooperative each month with questions about their current electric bill or seeking advice on how to reduce their electric bill. This page is intended to provide you with some answers to these questions.
If you're new, please check out our new member information.
Questions about service, deposits or your bill? Visit our FAQ page!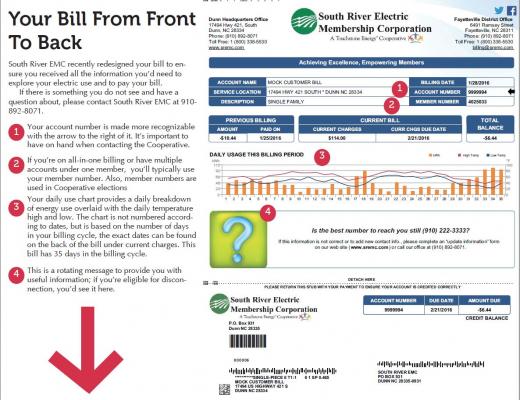 Reading your bill? Click here for more information.
Find more information on tax credits available for installing renewable energy applications, or performing energy efficiency measures on the tax credit information page. See if a Community Action Program can help you tighten your home up by looking over information about weatherization.
South River EMC has trained Energy Advisors and Customer Service Representatives who can answer your questions regarding energy efficiency and energy use. Please call the Cooperative at 910-892-8071. If you'd like to do a little checking on your own, try using the Home Energy Advisor.
Manufactured Housing
Manufactured housing is one of the fastest growing residential markets in the the United States. Many members embrace these homes because of their affordability. Although the manufactured housing industry is working diligently to improve the overall quality of their homes, the fact remains that manufactured homes have problems unique to their homes. South River EMC has gathered several resources to address your questions, view them here.