Helpful Tips For Storm Safety
Living in North Carolina means that you should be prepared for unpredictable weather. During hurricane season (June- November), electrical systems are vulnerable to mother nature's wrath.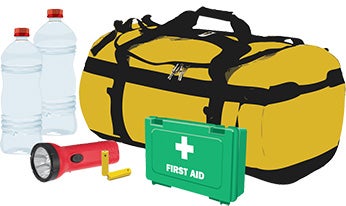 In the event of any outage, crews from South River EMC work round the clock to restore electric service to its members as quickly as possible. We work to restore power to the largest population of members the quickest. Transmission lines and substations are given top priority for repair since this will restore power to hundreds or thousand of people. Next, primary distribution feeders are restored starting with three phase lines, to second phase lines and lastly individual service drops. Click here for more information on how we restore power following a storm. Remember whenever bad weather strikes our area there is the potential for a loss of electric service, it is a good idea to know what to do if the power goes out.
Interested in tracking tropical storms and hurricanes this season? Check out the Hurricane Tracking Chart provided here.
Preparedness Tips:
What Goes In Your Emergency Kit?

Water: one gallon per person, per day (3-day supply for evacuation, 2-week supply for home)

Food: non-perishable, easy-to-prepare items (3-day supply for evacuation, 2-week supply for home)

Copies of personal documents (medication list and pertinent medical information, proof of address, deed/lease to home, passports, birth certificates, insurance policies)

Battery-powered or hand-crank radio (NOAA Weather Radio, if possible)

Extra batteries

First aid kit

Medications (7-day supply) and medical items, including supplies like: hearing aids with extra batteries, glasses, contact lenses, syringes, etc.

Sanitation and personal hygiene items

Multi-purpose tool

Flashlight

Manual can opener

Family and emergency contact information

Cell phone with chargers

Map(s) of the area

Emergency blanket

Extra cash

Baby supplies (bottles, formula, baby food, diapers) [if applicable]

Games and activities for children [if applicable]

Pet supplies (collar, leash, ID, food, carrier, bowl) [if applicable]

Extra set of car keys and house keys

Two-way radios

For additional information to be prepared, visit http://www.redcross.org/prepare.
When a WATCH is issued you should take the following steps:
Fuel your cars; do not wait until a Hurricane Warning is issued.

Check your emergency supplies and stock up on items that are needed.

Ensure you have enough food and containers for your water supply. Set refrigerator and freezer at their highest settings, do not open needlessly.

If evacuation has not already been recommended or ordered, consider leaving early to avoid long hours on the roads. Remember that weather conditions will deteriorate quickly as the hurricane approaches.

Communicate with your family members often and be ready to act quickly should a warning be issued. Time is on your side at this point, but conditions can change hour to hour.

Stay tuned to television and radio for official bulletins of the hurricane's progress.
A watch lets you know that weather conditions are favorable for a hazard to occur. It means "be on guard!" During a weather watch, gather awareness of the specific threat and prepare for action - monitor the weather to find out if severe weather conditions have deteriorated and discuss your protective action plans with your family.
When a WARNING is issued, take the following steps:
If you live in a manufactured home, secure it and evacuate.

If your doctor has advised that any ill or disabled persons in your home stay elsewhere, move them now.

If an evacuation order is issued, lock your home and leave.

Prepare for high winds by bracing garage doors, lowering antennas, and anchoring loose objects that are outside and that cannot be brought indoors.

If you own a boat, move it to a secure area.

Keep your radio, flashlights and extra batteries nearby. The power may go off without warning. Avoid using candles, but if you must, never leave them unattended!

During the event, resist temptation to go outside or watch through the windows. Hurricane force winds, downed live power lines and falling or flying debris all pose serious dangers.

As the winds increase, move to a room within a room, such as an interior closet or bathroom.

If the 'eye' moves over your location, again resist the urge to go outside. Hurricane force winds, heavy rains and accompanying dangers will resume rapidly. Winds will return from the opposite direction.
A warning requires immediate action. This means a weather hazard is imminent - it is either occurring (a tornado has been spotted, for example) - or it is about to occur at any moment. During a weather warning, it is important to take action: grab the emergency kit you have prepared in advance and head to safety immediately. Both watches and warnings are important, but warnings are more urgent.
After the Storm:
If you have evacuated, wait until authorities say it is safe before returning home.

Avoid loose or dangling power lines; immediately report them to the power company.

Check refrigerated foods for spoilage and discard rotten food (click here).

Be aware of snakes, bees and other dangerous animals that may be more aggressive as a result of the storm. Also, animals may take refuge on your property if it is dry and their habitat is flooded.

Use extreme caution when using chainsaws.

Call 911 only in emergencies. Remember that emergency crews will be overwhelmed during the recovery period. 

Do not leave the house if possible. Streets may be blocked, power lines down and street lights malfunctioning or out. It is safest to stay home.
In recent years many people have purchased portable generators to get through these outages with the least amount of inconvenience. If you are operating a portable generator, read all instructions carefully. Portable generator safety is very important! Never run a generator in the home or plug the generator into your homes electrical system. This can cause a danger for electrical workers. Also, be sure you turn your generator off before refueling. Click here for tips on How To Operate A Portable Generator Safely.