Kayla Bartley from Gray's Creek has been appointed to the South River Electric Membership Corporation's Board of Directors to represent the members in the cooperative's District 8.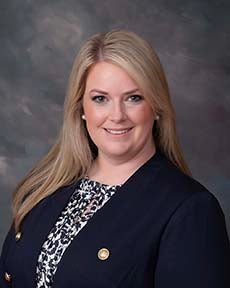 Bartley is a lifelong resident of the Gray's Creek Community in Cumberland County. She attended Campbell University where she obtained an undergraduate degree and a Master of Business Administration in 2013. She returned to Gray's Creek to work for the family businesses, Hoke County Sand Company and Riddle Farms.
Bartley is an active member of the community. She is actively involved in the Gray's Creek High School FFA Alumni and the Ladies Auxiliary at Gray's Creek Fire Department Station 18.  "These relationships mean a great deal to me," Bartley said. "I love the sense of community it brings to know and love those around me."
Bartley was appointed by the board of directors to complete the unexpired term of Clifton McNeill Jr. who resigned from the South River EMC Board of Directors in February.
"Ms. Bartley is highly recommended for her education, agribusiness background and passion for the community," said South River EMC Board Chair Dr. Elena Sue Godwin-Baker. "She brings a new perspective to the Board and will be an asset to the members and the Cooperative for many years to come."
Bartley lives in the Gray's Creek community with her husband, James Bartley III and their three children: Vera, Emmett, and Elliott.
South River EMC is a locally owned and operated electric cooperative, which provides electric service to 48,000 homes, farms and businesses in parts of Harnett, Cumberland, Sampson, Johnston and Bladen counties.